Dynisco - MPI - Melt Pressure Transducer - Cross Reference List
All Parts Below are in Stock




Choose 1 Day Shipping at Checkout to

Get your Transducer Tomorrow
MPI offers exact 'drop in' replacement models for all Dynisco pressure transducers.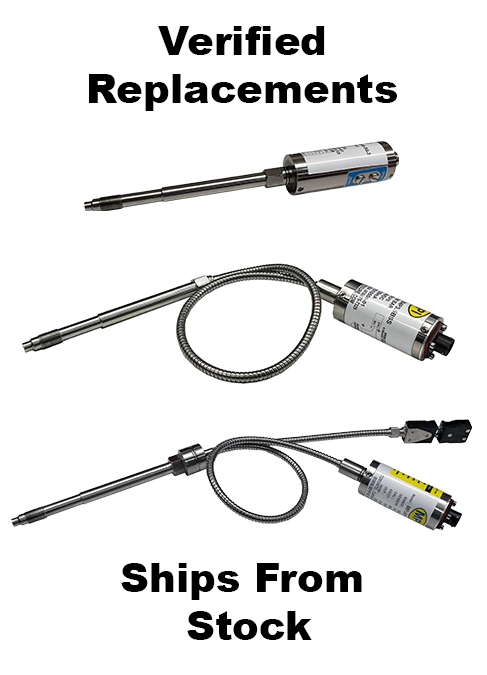 When provided with a Dynisco part number, MPI support engineers will determine the exact cost-competitive MPI replacement part. Our cross-reference list can help you select the MPI melt pressure part comparable to the Dynisco part you are replacing.
MPI Melt Pressure Replacement Parts Advantages
MPI offers industry-leading technical support through our division of support engineers available to help 7 days a week from 8am-6pm EST. MPI can help with:
Wiring
Programming
Troubleshooting
Virtually anything else related to MPI products
MPI is able to ship 90% of orders the same day the order is placed. Our custom melt pressure transducer replacement parts will ship within 1-2 days, an added benefit of having all modifications done in house at MPI's manufacturing facility.
Dynisco Melt Pressure Transducer Parts List
Ships Today - Delivered Tomorrow. All Parts Stock

| | | | | | |
| --- | --- | --- | --- | --- | --- |
| DYNISCO# | Verified Replacement | OUTPUT | PRESSURE | DESCRIPTION | DATASHEET |
| PT460E-1.5M-6 | MP101P1.5MSS | 3.33mV/V | 0-1,500psi | 1/2-20 UNF, 6pin, 6"Stem+NO-Flex | MPI Melt Pressure Transducer |
| PT460E-3M-6 | MP101P3MSS | 3.33mV/V | 0-3,000psi | 1/2-20 UNF, 6pin, 6"Stem+NO-Flex | MPI Melt Pressure Transducer |
| PT460E-5M-6 | MP101P5MSS | 3.33mV/V | 0-5,000psi | 1/2-20 UNF, 6pin, 6"Stem+NO-Flex | MPI Melt Pressure Transducer |
| PT460E-7.5M-6 | MP101P7.5MSS | 3.33mV/V | 0-7,500psi | 1/2-20 UNF, 6pin, 6"Stem+NO-Flex | MPI Melt Pressure Transducer |
| PT460E-10M-6 | MP101P10MSS | 3.33mV/V | 0-10,000psi | 1/2-20 UNF, 6pin, 6"Stem+NO-Flex | MPI Melt Pressure Transducer |
| PT460E-15M-6 | MP101P15MSS | 3.33mV/V | 0-15,000psi | 1/2-20 UNF, 6pin, 6"Stem+NO-Flex | MPI Melt Pressure Transducer |
| PT460E-20M-6 | MP101P20MSS | 3.33mV/V | 0-20,000psi | 1/2-20 UNF, 6pin, 6"Stem+NO-Flex | MPI Melt Pressure Transducer |
| PT460E-3M-12 | MP111P3MSS | 3.33mV/V | 0-3,000psi | 1/2-20 UNF, 6pin, 12"Stem+NO-Flex | MPI Melt Pressure Transducer |
| PT460E-5M-12 | MP111P5MSS | 3.33mV/V | 0-5,000psi | 1/2-20 UNF, 6pin, 12"Stem+NO-Flex | MPI Melt Pressure Transducer |
| PT460E-7.5M-12 | MP111P7.5MSS | 3.33mV/V | 0-7,500psi | 1/2-20 UNF, 6pin, 12"Stem+NO-Flex | MPI Melt Pressure Transducer |
| PT460E-10M-12 | MP111P10MSS | 3.33mV/V | 0-10,000psi | 1/2-20 UNF, 6pin, 12"Stem+NO-Flex | MPI Melt Pressure Transducer |
| PT462E-1.5M-6/18 | MP201P1.5MSS | 3.33mV/V | 0-1,500psi | 1/2-20 UNF, 6pin, 6"Stem+18-Flex | MPI Melt Pressure Transducer |
| PT462E-3M-6/18 | MP201P3MSS | 3.33mV/V | 0-3,000psi | 1/2-20 UNF, 6pin, 6"Stem+18-Flex | MPI Melt Pressure Transducer |
| PT462E-5M-6/18 | MP201P5MSS | 3.33mV/V | 0-5,000psi | 1/2-20 UNF, 6pin, 6"Stem+18-Flex | MPI Melt Pressure Transducer |
| PT462E-7.5M-6/18 | MP201P7.5MSS | 3.33mV/V | 0-7,500psi | 1/2-20 UNF, 6pin, 6"Stem+18-Flex | MPI Melt Pressure Transducer |
| PT462E-10M-6/18 | MP201P10MSS | 3.33mV/V | 0-10,000psi | 1/2-20 UNF, 6pin, 6"Stem+18-Flex | MPI Melt Pressure Transducer |
| PT462E-15M-6/18 | MP201P15MSS | 3.33mV/V | 0-15,000psi | 1/2-20 UNF, 6pin, 6"Stem+18-Flex | MPI Melt Pressure Transducer |
| PT462E-20M-6/18 | MP201P20MSS | 3.33mV/V | 0-20,000psi | 1/2-20 UNF, 6pin, 6"Stem+18-Flex | MPI Melt Pressure Transducer |
| PT462E-3M-6/30 | MP231P3MSS | 3.33mV/V | 0-3,000psi | 1/2-20 UNF, 6pin, 6"Stem+30-Flex | MPI Melt Pressure Transducer |
| PT462E-5M-6/30 | MP231P5MSS | 3.33mV/V | 0-5,000psi | 1/2-20 UNF, 6pin, 6"Stem+30-Flex | MPI Melt Pressure Transducer |
| PT462E-7.5M-6/30 | MP231P7.5MSS | 3.33mV/V | 0-7,500psi | 1/2-20 UNF, 6pin, 6"Stem+30-Flex | MPI Melt Pressure Transducer |
| PT462E-10M-6/30 | MP231P10MSS | 3.33mV/V | 0-10,000psi | 1/2-20 UNF, 6pin, 6"Stem+30-Flex | MPI Melt Pressure Transducer |
| PT462E-3M-12/18 | MP211P3MSS | 3.33mV/V | 0-3,000psi | 1/2-20 UNF, 6pin, 12"Stem+18-Flex | MPI Melt Pressure Transducer |
| PT462E-5M-12/18 | MP211P5MSS | 3.33mV/V | 0-5,000psi | 1/2-20 UNF, 6pin, 12"Stem+18-Flex | MPI Melt Pressure Transducer |
| PT462E-7.5M-12/18 | MP211P7.5MSS | 3.33mV/V | 0-7,500psi | 1/2-20 UNF, 6pin, 12"Stem+18-Flex | MPI Melt Pressure Transducer |
| PT462E-10M-12/18 | MP211P10MSS | 3.33mV/V | 0-10,000psi | 1/2-20 UNF, 6pin, 12"Stem+18-Flex | MPI Melt Pressure Transducer |
| TPT463E-1.5M-6/18 | MPJ01P1.5MSS | 3.33mV/V | 0-1,500psi | 1/2-20 UNF, 6pin, 6"Stem+18-Flex+T/C-J | MPI Melt Pressure Transducer |
| TPT463E-3M-6/18 | MPJ01P3MSS | 3.33mV/V | 0-3,000psi | 1/2-20 UNF, 6pin, 6"Stem+18-Flex+T/C-J | MPI Melt Pressure Transducer |
| TPT463E-5M-6/18 | MPJ01P5MSS | 3.33mV/V | 0-5,000psi | 1/2-20 UNF, 6pin, 6"Stem+18-Flex+T/C-J | MPI Melt Pressure Transducer |
| TPT463E-7.5M-6/18 | MPJ01P7.5MSS | 3.33mV/V | 0-7,500psi | 1/2-20 UNF, 6pin, 6"Stem+18-Flex+T/C-J | MPI Melt Pressure Transducer |
| TPT463E-10M-6/18 | MPJ01P10MSS | 3.33mV/V | 0-10,000psi | 1/2-20 UNF, 6pin, 6"Stem+18-Flex+T/C-J | MPI Melt Pressure Transducer |
| TPT463E-15M-6/18 | MPJ01P15MSS | 3.33mV/V | 0-15,000psi | 1/2-20 UNF, 6pin, 6"Stem+18-Flex+T/C-J | MPI Melt Pressure Transducer |
| TPT463E-20M-6/18 | MPJ01P20MSS | 3.33mV/V | 0-20,000psi | 1/2-20 UNF, 6pin, 6"Stem+18-Flex+T/C-J | MPI Melt Pressure Transducer |
| TPT463E-3M-6/30 | MPJ31P3MSS | 3.33mV/V | 0-3,000psi | 1/2-20 UNF, 6pin, 6"Stem+30-Flex+T/C-J | MPI Melt Pressure Transducer |
| TPT463E-5M-6/30 | MPJ31P5MSS | 3.33mV/V | 0-5,000psi | 1/2-20 UNF, 6pin, 6"Stem+30-Flex+T/C-J | MPI Melt Pressure Transducer |
| TPT463E-7.5M-6/30 | MPJ31P7.5MSS | 3.33mV/V | 0-7,500psi | 1/2-20 UNF, 6pin, 6"Stem+30-Flex+T/C-J | MPI Melt Pressure Transducer |
| TPT463E-10M-6/30 | MPJ31P10MSS | 3.33mV/V | 0-10,000psi | 1/2-20 UNF, 6pin, 6"Stem+30-Flex+T/C-J | MPI Melt Pressure Transducer |
| TPT463E-3M-12/18 | MPJ11P3MSS | 3.33mV/V | 0-3,000psi | 1/2-20 UNF, 6pin, 12"Stem+18-Flex+T/C-J | MPI Melt Pressure Transducer |
| TPT463E-5M-12/18 | MPJ11P5MSS | 3.33mV/V | 0-5,000psi | 1/2-20 UNF, 6pin, 12"Stem+18-Flex+T/C-J | MPI Melt Pressure Transducer |
| TPT463E-7.5-12/18 | MPJ11P7.5MSS | 3.33mW/W | 0-7,500psi | 1/2-20 UNF, 6pin, 12"Stem+18-Flex+T/C-J | MPI Melt Pressure Transducer |
| TPT463E-10M-12/18 | MPJ11P10MSS | 3.33mW/W | 0-10,000psi | 1/2-20 UNF, 6pin, 12"Stem+18-Flex+T/C-J | MPI Melt Pressure Transducer |
Ships Today - Delivered Tomorrow. All Parts Stock

| | | | | | |
| --- | --- | --- | --- | --- | --- |
| DYNISCO# | Verified Replacement | OUTPUT | PRESSURE | DESCRIPTION | DATASHEET |
| PT460XL-1.5M-6 | MP101P1.5MSS | 3.33mV/V | 0-1,500psi | 1/2-20 UNF, 6pin, 6"Stem+NO-Flex | MPI Melt Pressure Transducer |
| PT460XL-3M-6 | MP101P3MSS | 3.33mV/V | 0-3,000psi | 1/2-20 UNF, 6pin, 6"Stem+NO-Flex | MPI Melt Pressure Transducer |
| PT460XL-5M-6 | MP101P5MSS | 3.33mV/V | 0-5,000psi | 1/2-20 UNF, 6pin, 6"Stem+NO-Flex | MPI Melt Pressure Transducer |
| PT460XL-7.5M-6 | MP101P7.5MSS | 3.33mV/V | 0-7,500psi | 1/2-20 UNF, 6pin, 6"Stem+NO-Flex | MPI Melt Pressure Transducer |
| PT460XL-10M-6 | MP101P10MSS | 3.33mV/V | 0-10,000psi | 1/2-20 UNF, 6pin, 6"Stem+NO-Flex | MPI Melt Pressure Transducer |
| PT460XL-15M-6 | MP101P15MSS | 3.33mV/V | 0-15,000psi | 1/2-20 UNF, 6pin, 6"Stem+NO-Flex | MPI Melt Pressure Transducer |
| PT460XL-20M-6 | MP101P20MSS | 3.33mV/V | 0-20,000psi | 1/2-20 UNF, 6pin, 6"Stem+NO-Flex | MPI Melt Pressure Transducer |
| PT460XL-3M-12 | MP111P3MSS | 3.33mV/V | 0-3,000psi | 1/2-20 UNF, 6pin, 12"Stem+NO-Flex | MPI Melt Pressure Transducer |
| PT460XL-5M-12 | MP111P5MSS | 3.33mV/V | 0-5,000psi | 1/2-20 UNF, 6pin, 12"Stem+NO-Flex | MPI Melt Pressure Transducer |
| PT460XL-7.5M-12 | MP111P7.5MSS | 3.33mV/V | 0-7,500psi | 1/2-20 UNF, 6pin, 12"Stem+NO-Flex | MPI Melt Pressure Transducer |
| PT460XL-10M-12 | MP111P10MSS | 3.33mV/V | 0-10,000psi | 1/2-20 UNF, 6pin, 12"Stem+NO-Flex | MPI Melt Pressure Transducer |
| PT462XL-1.5M-6/18 | MP201P1.5MSS | 3.33mV/V | 0-1,500psi | 1/2-20 UNF, 6pin, 12"Stem+NO-Flex | MPI Melt Pressure Transducer |
| PT462XL-3M-6/18 | MP201P3MSS | 3.33mV/V | 0-3,000psi | 1/2-20 UNF, 6pin, 6"Stem+18-Flex | MPI Melt Pressure Transducer |
| PT462XL-5M-6/18 | MP201P5MSS | 3.33mV/V | 0-5,000psi | 1/2-20 UNF, 6pin, 6"Stem+18-Flex | MPI Melt Pressure Transducer |
| PT462XL-7.5M-6/18 | MP201P7.5MSS | 3.33mV/V | 0-7,500psi | 1/2-20 UNF, 6pin, 6"Stem+18-Flex | MPI Melt Pressure Transducer |
| PT462XL-10M-6/18 | MP201P10MSS | 3.33mV/V | 0-10,000psi | 1/2-20 UNF, 6pin, 6"Stem+18-Flex | MPI Melt Pressure Transducer |
| PT462XL-15M-6/18 | MP201P15MSS | 3.33mV/V | 0-15,000psi | 1/2-20 UNF, 6pin, 6"Stem+18-Flex | MPI Melt Pressure Transducer |
| PT462XL-15M-6/18 | MP201P20MSS | 3.33mV/V | 0-20,000psi | 1/2-20 UNF, 6pin, 6"Stem+18-Flex | MPI Melt Pressure Transducer |
| PT462XL-3M-6/30 | MP231P3MSS | 3.33mV/V | 0-3,000psi | 1/2-20 UNF, 6pin, 6"Stem+30-Flex | MPI Melt Pressure Transducer |
| PT462XL-5M-6/30 | MP231P5MSS | 3.33mV/V | 0-5,000psi | 1/2-20 UNF, 6pin, 6"Stem+30-Flex | MPI Melt Pressure Transducer |
| PT462XL-7.5M-6/30 | MP231P7.5MSS | 3.33mV/V | 0-7,500psi | 1/2-20 UNF, 6pin, 6"Stem+30-Flex | MPI Melt Pressure Transducer |
| PT462XL-10M-6/30 | MP231P10MSS | 3.33mV/V | 0-10,000psi | 1/2-20 UNF, 6pin, 6"Stem+30-Flex | MPI Melt Pressure Transducer |
| PT462XL-3M-12/18 | MP211P3MSS | 3.33mV/V | 0-3,000psi | 1/2-20 UNF, 6pin, 12"Stem+18-Flex | MPI Melt Pressure Transducer |
| PT462XL-5M-12/18 | MP211P5MSS | 3.33mV/V | 0-5,000psi | 1/2-20 UNF, 6pin, 12"Stem+18-Flex | MPI Melt Pressure Transducer |
| PT462XL-7.5M-12/18 | MP211P7.5MSS | 3.33mV/V | 0-7,500psi | 1/2-20 UNF, 6pin, 12"Stem+18-Flex | MPI Melt Pressure Transducer |
| PT462XL-10M-12/18 | MP211P10MSS | 3.33mV/V | 0-10,000psi | 1/2-20 UNF, 6pin, 12"Stem+18-Flex | MPI Melt Pressure Transducer |
| TPT463XL-1.5M-6/18 | MPJ01P1.5MSS | 3.33mV/V | 0-1,500psi | 1/2-20 UNF, 6pin, 6"Stem+18-Flex+T/C-J | MPI Melt Pressure Transducer |
| TPT463XL-3M-6/18 | MPJ01P3MSS | 3.33mV/V | 0-3,000psi | 1/2-20 UNF, 6pin, 6"Stem+18-Flex+T/C-J | MPI Melt Pressure Transducer |
| TPT463XL-5M-6/18 | MPJ01P5MSS | 3.33mV/V | 0-5,000psi | 1/2-20 UNF, 6pin, 6"Stem+18-Flex+T/C-J | MPI Melt Pressure Transducer |
| TPT463XL-7.5M-6/18 | MPJ01P7.5MSS | 3.33mV/V | 0-7,500psi | 1/2-20 UNF, 6pin, 6"Stem+18-Flex+T/C-J | MPI Melt Pressure Transducer |
| TPT463XL-10M-6/18 | MPJ01P10MSS | 3.33mV/V | 0-10,000psi | 1/2-20 UNF, 6pin, 6"Stem+18-Flex+T/C-J | MPI Melt Pressure Transducer |
| TPT463XL-15M-6/18 | MPJ01P15MSS | 3.33mV/V | 0-15,000psi | 1/2-20 UNF, 6pin, 6"Stem+18-Flex+T/C-J | MPI Melt Pressure Transducer |
| TPT463XL-20M-6/18 | MPJ01P20MSS | 3.33mV/V | 0-20,000psi | 1/2-20 UNF, 6pin, 6"Stem+18-Flex+T/C-J | MPI Melt Pressure Transducer |
| TPT463XL-3M-6/30 | MPJ31P3MSS | 3.33mV/V | 0-3,000psi | 1/2-20 UNF, 6pin, 6"Stem+30-Flex+T/C-J | MPI Melt Pressure Transducer |
| TPT463XL-5M-6/30 | MPJ31P5MSS | 3.33mV/V | 0-5,000psi | 1/2-20 UNF, 6pin, 6"Stem+30-Flex+T/C-J | MPI Melt Pressure Transducer |
| TPT463XL-7.5M-6/30 | MPJ31P7.5MSS | 3.33mV/V | 0-7,500psi | 1/2-20 UNF, 6pin, 6"Stem+30-Flex+T/C-J | MPI Melt Pressure Transducer |
| TPT463XL-10M-6/30 | MPJ31P10MSS | 3.33mV/V | 0-10,000psi | 1/2-20 UNF, 6pin, 6"Stem+30-Flex+T/C-J | MPI Melt Pressure Transducer |
| TPT463XL-3M-12/18 | MPJ11P3MSS | 3.33mV/V | 0-3,000psi | 1/2-20 UNF, 6pin, 12"Stem+18-Flex+T/C-J | MPI Melt Pressure Transducer |
| TPT463XL-5M-12/18 | MPJ11P5MSS | 3.33mV/V | 0-5,000psi | 1/2-20 UNF, 6pin, 12"Stem+18-Flex+T/C-J | MPI Melt Pressure Transducer |
| TPT463XL-7.5M-12/18 | MPJ11P7.5MSS | 3.33mV/V | 0-7,500psi | 1/2-20 UNF, 6pin, 12"Stem+18-Flex+T/C-J | MPI Melt Pressure Transducer |
| TPT463XL-10M-12/18 | MPJ11P10MSS | 3.33mV/V | 0-10,000psi | 1/2-20 UNF, 6pin, 12"Stem+18-Flex+T/C-J | MPI Melt Pressure Transducer |
Ships Today - Delivered Tomorrow. All Parts Stock

| | | | | | |
| --- | --- | --- | --- | --- | --- |
| DYNISCO# | MPI# | OUTPUT | PRESSURE | DESCRIPTION | BROCHURE |
| PT420A-3M-6 | MP101P3M8S-.25 | 3.33mV/V | 0-3,000psi | 1/2-20 UNF, 8pin, 6"Stem+NO-Flex | MPI Melt Pressure Transducer |
| PT420A-5M-6 | MP101P5M8S-.25 | 3.33mV/V | 0-5,000psi | 1/2-20 UNF, 8pin, 6"Stem+NO-Flex | MPI Melt Pressure Transducer |
| PT420A-7.5M-6 | MP101P7.5M8S-.25 | 3.33mV/V | 0-7,500psi | 1/2-20 UNF, 8pin, 6"Stem+NO-Flex | MPI Melt Pressure Transducer |
| PT420A-10M-6 | MP101P10M8S-.25 | 3.33mV/V | 0-10,000psi | 1/2-20 UNF, 8pin, 6"Stem+NO-Flex | MPI Melt Pressure Transducer |
| PT420A-3M-12 | MP111P3M8S-.25 | 3.33mV/V | 0-3,000psi | 1/2-20 UNF, 8pin, 12"Stem+NO-Flex | MPI Melt Pressure Transducer |
| PT420A-5M-12 | MP111P5M8S-.25 | 3.33mV/V | 0-5,000psi | 1/2-20 UNF, 8pin, 12"Stem+NO-Flex | MPI Melt Pressure Transducer |
| PT420A-7.5M-12 | MP111P7.5M8S-.25 | 3.33mV/V | 0-7,500psi | 1/2-20 UNF, 8pin, 12"Stem+NO-Flex | MPI Melt Pressure Transducer |
| PT420A-10M-12 | MP111P10M8S-.25 | 3.33mV/V | 0-10,000psi | 1/2-20 UNF, 8pin, 12"Stem+NO-Flex | MPI Melt Pressure Transducer |
| PT422A-3M-6/18 | MP201P3M8S-.25 | 3.33mV/V | 0-3,000psi | 1/2-20 UNF, 8pin, 6"Stem+18-Flex | MPI Melt Pressure Transducer |
| PT422A-5M-6/18 | MP201P5M8S-.25 | 3.33mV/V | 0-5,000psi | 1/2-20 UNF, 8pin, 6"Stem+18-Flex | MPI Melt Pressure Transducer |
| PT422A-7.5M-6/18 | MP201P7.5M8S-.25 | 3.33mV/V | 0-7,500psi | 1/2-20 UNF, 8pin, 6"Stem+18-Flex | MPI Melt Pressure Transducer |
| PT422A-10M-6/18 | MP201P10M8S-.25 | 3.33mV/V | 0-10,000psi | 1/2-20 UNF, 8pin, 6"Stem+18-Flex | MPI Melt Pressure Transducer |
| PT422A-3M-12/18 | MP211P3M8S-.25 | 3.33mV/V | 0-3,000psi | 1/2-20 UNF, 8pin, 12"Stem+18-Flex | MPI Melt Pressure Transducer |
| PT422A-5M-12/18 | MP211P5M8S-.25 | 3.33mV/V | 0-5,000psi | 1/2-20 UNF, 8pin, 12"Stem+18-Flex | MPI Melt Pressure Transducer |
| PT422A-7.5M-12/18 | MP211P7.5M8S-.25 | 3.33mV/V | 0-7,500psi | 1/2-20 UNF, 8pin, 12"Stem+18-Flex | MPI Melt Pressure Transducer |
| PT422A-10M-12/18 | MP211P10M8S-.25 | 3.33mV/V | 0-10,000psi | 1/2-20 UNF, 8pin, 12"Stem+18-Flex | MPI Melt Pressure Transducer |
| TPT432A-3M-6/18 | MPJ01P3M8S-.25 | 3.33mV/V | 0-3,000psi | 1/2-20 UNF, 8pin, 6"Stem+18-Flex + T/C-J | MPI Melt Pressure Transducer |
| TPT432A-5M-6/18 | MPJ01P5M8S-.25 | 3.33mV/V | 0-5,000psi | 1/2-20 UNF, 8pin, 6"Stem+18-Flex + T/C-J | MPI Melt Pressure Transducer |
| TPT432A-7.5M-6/18 | MPJ01P7.5M8S-.25 | 3.33mV/V | 0-7,500psi | 1/2-20 UNF, 8pin, 6"Stem+18-Flex + T/C-J | MPI Melt Pressure Transducer |
| TPT432A-10M-6/18 | MPJ01P10M8S-.25 | 3.33mV/V | 0-10,000psi | 1/2-20 UNF, 8pin, 6"Stem+18-Flex + T/C-J | MPI Melt Pressure Transducer |
| TPT432A-3M-12/18 | MPJ11P3M8S-.25 | 3.33mV/V | 0-3,000psi | 1/2-20 UNF, 8pin, 12"Stem+18-Flex + T/C-J | MPI Melt Pressure Transducer |
| TPT432A-5M-12/18 | MPJ11P5M8S-.25 | 3.33mV/V | 0-5,000psi | 1/2-20 UNF, 8pin, 12"Stem+18-Flex + T/C-J | MPI Melt Pressure Transducer |
| TPT432A-7.5M-12/18 | MPJ11P7.5M8S-.25 | 3.33mV/V | 0-7,500psi | 1/2-20 UNF, 8pin, 12"Stem+18-Flex + T/C-J | MPI Melt Pressure Transducer |
| TPT432A-10M-12/18 | MPJ11P10M8S-.25 | 3.33mV/V | 0-10,000psi | 1/2-20 UNF, 8pin, 12"Stem+18-Flex + T/C-J | MPI Melt Pressure Transducer |

| | | | | | |
| --- | --- | --- | --- | --- | --- |
| DYNISCO# | MPI# | OUTPUT | PRESSURE | DESCRIPTION | BROCHURE |
| DYN-X-3M-6 | MP101P3MSS | 3.33mV/V | 0-3,000psi | 1/2-20 UNF, 6pin, 6"Stem+NO-Flex | MPI Melt Pressure Transducer |
| DYN-X-5M-6 | MP101P5MSS | 3.33mV/V | 0-5,000psi | 1/2-20 UNF, 6pin, 6"Stem+NO-Flex | MPI Melt Pressure Transducer |
| DYN-X-7.5M-6 | MP101P7.5MSS | 3.33mV/V | 0-7,500psi | 1/2-20 UNF, 6pin, 6"Stem+NO-Flex | MPI Melt Pressure Transducer |
| DYN-X-10M-6 | MP101P10MSS | 3.33mV/V | 0-10,000psi | 1/2-20 UNF, 6pin, 6"Stem+NO-Flex | MPI Melt Pressure Transducer |
| DYN-X-3M-12 | MP111P3MSS | 3.33mV/V | 0-3,000psi | 1/2-20 UNF, 6pin, 12"Stem+NO-Flex | MPI Melt Pressure Transducer |
| DYN-X-5M-12 | MP111P5MSS | 3.33mV/V | 0-5,000psi | 1/2-20 UNF, 6pin, 12"Stem+NO-Flex | MPI Melt Pressure Transducer |
| DYN-X-7.5M-12 | MP111P7.5MSS | 3.33mV/V | 0-7,500psi | 1/2-20 UNF, 6pin, 12"Stem+NO-Flex | MPI Melt Pressure Transducer |
| DYN-X-10M-12 | MP111P10MSS | 3.33mV/V | 0-10,000psi | 1/2-20 UNF, 6pin, 12"Stem+NO-Flex | MPI Melt Pressure Transducer |
| DYN-X-3M-6/18 | MP201P3MSS | 3.33mV/V | 0-3,000psi | 1/2-20 UNF, 6pin, 6"Stem+18-Flex | MPI Melt Pressure Transducer |
| DYN-X-5M-6/18 | MP201P5MSS | 3.33mV/V | 0-5,000psi | 1/2-20 UNF, 6pin, 6"Stem+18-Flex | MPI Melt Pressure Transducer |
| DYN-X-7.5M-6/18 | MP201P7.5MSS | 3.33mV/V | 0-7,500psi | 1/2-20 UNF, 6pin, 6"Stem+18-Flex | MPI Melt Pressure Transducer |
| DYN-X-10M-6/18 | MP201P10MSS | 3.33mV/V | 0-10,000psi | 1/2-20 UNF, 6pin, 6"Stem+18-Flex | MPI Melt Pressure Transducer |
| DYN-X-3M-12/18 | MP211P3MSS | 3.33mV/V | 0-3,000psi | 1/2-20 UNF, 6pin, 12"Stem+18-Flex | MPI Melt Pressure Transducer |
| DYN-X-5M-12/18 | MP211P5MSS | 3.33mV/V | 0-5,000psi | 1/2-20 UNF, 6pin, 12"Stem+18-Flex | MPI Melt Pressure Transducer |
| DYN-X-7.5M-12/18 | MP211P7.5MSS | 3.33mV/V | 0-7,500psi | 1/2-20 UNF, 6pin, 12"Stem+18-Flex | MPI Melt Pressure Transducer |
| DYN-X-10M-12/18 | MP211P10MSS | 3.33mV/V | 0-10,000psi | 1/2-20 UNF, 6pin, 12"Stem+18-Flex | MPI Melt Pressure Transducer |
| DYN-X-3M-6/18-TC | MPJ01P3MSS | 3.33mV/V | 0-3,000psi | 1/2-20 UNF, 6pin, 6"Stem+18-Flex + T/C-J | MPI Melt Pressure Transducer |
| DYN-X-5M-6/18-TC | MPJ01P5MSS | 3.33mV/V | 0-5,000psi | 1/2-20 UNF, 6pin, 6"Stem+18-Flex + T/C-J | MPI Melt Pressure Transducer |
| DYN-X-7.5M-6/18-TC | MPJ01P7.5MSS | 3.33mV/V | 0-7,500psi | 1/2-20 UNF, 6pin, 6"Stem+18-Flex + T/C-J | MPI Melt Pressure Transducer |
| DYN-X-10M-6/18-TC | MPJ01P10MSS | 3.33mV/V | 0-10,000psi | 1/2-20 UNF, 6pin, 6"Stem+18-Flex + T/C-J | MPI Melt Pressure Transducer |
| DYN-X-3M-12/18-TC | MPJ11P3MSS | 3.33mV/V | 0-3,000psi | 1/2-20 UNF, 6pin, 12"Stem+18-Flex + T/C-J | MPI Melt Pressure Transducer |
| DYN-X-5M-12/18-TC | MPJ11P5MSS | 3.33mV/V | 0-5,000psi | 1/2-20 UNF, 6pin, 12"Stem+18-Flex + T/C-J | MPI Melt Pressure Transducer |
| DYN-X-7.5M-12/18-TC | MPJ11P7.5MSS | 3.33mV/V | 0-7,500psi | 1/2-20 UNF, 6pin, 12"Stem+18-Flex + T/C-J | MPI Melt Pressure Transducer |
| DYN-X-10M-12/18-TC | MPJ11P10MSS | 3.33mV/V | 0-10,000psi | 1/2-20 UNF, 6pin, 12"Stem+18-Flex + T/C-J | MPI Melt Pressure Transducer |

| | | | | | |
| --- | --- | --- | --- | --- | --- |
| DYNISCO# | MPI# | OUTPUT | PRESSURE | DESCRIPTION | BROCHURE |
| ECHO-MV3-PSI-R20-UNF-6PN-S06-NFL-NTR-N | MK101P3MSD | 3.33mV/V | 0-3,000psi | 1/2-20 UNF, 6pin, 6"Stem+NO-Flex | MK Melt Pressure Transducer Transmitter |
| ECHO-MV3-PSI-R21-UNF-6PN-S06-NFL-NTR-N | MK101P5MSD | 3.33mV/V | 0-5,000psi | 1/2-20 UNF, 6pin, 6"Stem+NO-Flex | MK Melt Pressure Transducer Transmitter |
| ECHO-MV3-PSI-R22-UNF-6PN-S06-NFL-NTR-N | MK101P7.5MSD | 3.33mV/V | 0-7,500psi | 1/2-20 UNF, 6pin, 6"Stem+NO-Flex | MK Melt Pressure Transducer Transmitter |
| ECHO-MV3-PSI-R23-UNF-6PN-S06-NFL-NTR-N | MK101P10MSD | 3.33mV/V | 0-10,000psi | 1/2-20 UNF, 6pin, 6"Stem+NO-Flex | MK Melt Pressure Transducer Transmitter |
| ECHO-MV3-PSI-R20-UNF-6PN-S06-F18-NTR-N | MK201P3MSD | 3.33mV/V | 0-3,000psi | 1/2-20 UNF, 6pin, 6"Stem+18-Flex | MK Melt Pressure Transducer Transmitter |
| ECHO-MV3-PSI-R21-UNF-6PN-S06-F18-NTR-N | MK201P5MSD | 3.33mV/V | 0-5,000psi | 1/2-20 UNF, 6pin, 6"Stem+18-Flex | MK Melt Pressure Transducer Transmitter |
| ECHO-MV3-PSI-R22-UNF-6PN-S06-F18-NTR-N | MK201P7.5MSD | 3.33mV/V | 0-7,500psi | 1/2-20 UNF, 6pin, 6"Stem+18-Flex | MK Melt Pressure Transducer Transmitter |
| ECHO-MV3-PSI-R23-UNF-6PN-S06-F18-NTR-N | MK201P10MSD | 3.33mV/V | 0-10,000psi | 1/2-20 UNF, 6pin, 6"Stem+18-Flex | MK Melt Pressure Transducer Transmitter |
| ECHO-MV3-PSI-R20-UNF-6PN-S06-F18-TCJ-N | MKJ01P3MSD | 3.33mV/V | 0-3,000psi | 1/2-20 UNF, 6pin, 6"Stem+18-Flex, T/C-J | MK Melt Pressure Transducer Transmitter |
| ECHO-MV3-PSI-R21-UNF-6PN-S06-F18-TCJ-N | MKJ01P5MSD | 3.33mV/V | 0-5,000psi | 1/2-20 UNF, 6pin, 6"Stem+18-Flex, T/C-J | MK Melt Pressure Transducer Transmitter |
| ECHO-MV3-PSI-R22-UNF-6PN-S06-F18-TCJ-N | MKJ01P7.5MSD | 3.33mV/V | 0-7,500psi | 1/2-20 UNF, 6pin, 6"Stem+18-Flex, T/C-J | MK Melt Pressure Transducer Transmitter |
| ECHO-MV3-PSI-R23-UNF-6PN-S06-F18-TCJ-N | MKJ01P10MSD | 3.33mV/V | 0-10,000psi | 1/2-20 UNF, 6pin, 6"Stem+18-Flex, T/C-J | MK Melt Pressure Transducer Transmitter |

| | | | | | |
| --- | --- | --- | --- | --- | --- |
| DYNISCO# | MPI# | OUTPUT | PRESSURE | DESCRIPTION | BROCHURE |
| MDA420-1/2-2C-15 | MP101P2BSS | 3.33mV/V | 0-200bar | 1/2-20 UNF, 6pin, 6"Stem | MPI Melt Pressure Transducer |
| MDA420-1/2-3.5C-15 | MP101P3.5BSS | 3.33mV/V | 0-350bar | 1/2-20 UNF, 6pin, 6"Stem | MPI Melt Pressure Transducer |
| MDA420-1/2-5C-15 | MP101P5BSS | 3.33mV/V | 0-500bar | 1/2-20 UNF, 6pin, 6"Stem | MPI Melt Pressure Transducer |
| MDA420-1/2-7C-15 | MP101P7BSS | 3.33mV/V | 0-700bar | 1/2-20 UNF, 6pin, 6"Stem | MPI Melt Pressure Transducer |
| MDA420-1/2-1M-15 | MP101P10BSS | 3.33mV/V | 0-1000bar | 1/2-20 UNF, 6pin, 6"Stem | MPI Melt Pressure Transducer |

| | | | | | |
| --- | --- | --- | --- | --- | --- |
| DYNISCO# | MPI# | OUTPUT | PRESSURE | DESCRIPTION | BROCHURE |
| MDA460-1/2-2C-15 | MP101P2BSS | 3.33mV/V | 0-200bar | 1/2-20 UNF, 6pin, 6"Stem | MPI Melt Pressure Transducer |
| MDA460-1/2-3.5C-15 | MP101P3.5BSS | 3.33mV/V | 0-350bar | 1/2-20 UNF, 6pin, 6"Stem | MPI Melt Pressure Transducer |
| MDA460-1/2-5C-15 | MP101P5BSS | 3.33mV/V | 0-500bar | 1/2-20 UNF, 6pin, 6"Stem | MPI Melt Pressure Transducer |
| MDA460-1/2-7C-15 | MP101P7BSS | 3.33mV/V | 0-700bar | 1/2-20 UNF, 6pin, 6"Stem | MPI Melt Pressure Transducer |
| MDA460-1/2-1M-15 | MP101P10BSS | 3.33mV/V | 0-1000bar | 1/2-20 UNF, 6pin, 6"Stem | MPI Melt Pressure Transducer |

| | | | | | |
| --- | --- | --- | --- | --- | --- |
| DYNISCO# | MPI# | OUTPUT | PRESSURE | DESCRIPTION | BROCHURE |
| PT410-3M-6 | MK101P3M8S-.25 | 3.3mV/V | 0-3,000psi | 1/2-20 UNF, 8pin, 6"Stem+NO-Flex, 0.25% | MK Melt Pressure Transducer Transmitter |
| PT410-5M-6 | MK101P5M8S-.25 | 3.3mV/V | 0-5,000psi | 1/2-20 UNF, 8pin, 6"Stem+NO-Flex, 0.25% | MK Melt Pressure Transducer Transmitter |
| PT410-7.5M-6 | MK101P7.5M8S-.25 | 3.3mV/V | 0-7,500psi | 1/2-20 UNF, 8pin, 6"Stem+NO-Flex, 0.25% | MK Melt Pressure Transducer Transmitter |
| PT410-10M-6 | MK101P10M8S-.25 | 3.3mV/V | 0-10,000psi | 1/2-20 UNF, 8pin, 6"Stem+NO-Flex, 0.25% | MK Melt Pressure Transducer Transmitter |
| PT412-3M-6/18 | MK201P3M8S-.25 | 3.3mV/V | 0-3,000psi | 1/2-20 UNF, 8pin, 6"Stem+18-Flex, 0.25% | MK Melt Pressure Transducer Transmitter |
| PT412-5M-6/18 | MK201P5M8S-.25 | 3.3mV/V | 0-5,000psi | 1/2-20 UNF, 8pin, 6"Stem+18-Flex, 0.25% | MK Melt Pressure Transducer Transmitter |
| PT412-7.5M-6/18 | MK201P7.5M8S-.25 | 3.3mV/V | 0-7,500psi | 1/2-20 UNF, 8pin, 6"Stem+18-Flex, 0.25% | MK Melt Pressure Transducer Transmitter |
| PT412-10M-6/18 | MK201P10M8S-.25 | 3.3mV/V | 0-10,000psi | 1/2-20 UNF, 8pin, 6"Stem+18-Flex, 0.25% | MK Melt Pressure Transducer Transmitter |
| TPT412-3M-6/18 | MKJ01P3M8S-.25 | 3.3mV/V | 0-3,000psi | 1/2-20 UNF, 8pin, 6"Stem+18-Flex + T/C-J, 0.25% | MK Melt Pressure Transducer Transmitter |
| TPT412-5M-6/18 | MKJ01P5M8S-.25 | 3.3mV/V | 0-5,000psi | 1/2-20 UNF, 8pin, 6"Stem+18-Flex + T/C-J, 0.25% | MK Melt Pressure Transducer Transmitter |
| TPT412-7.5M-6/18 | MKJ01P7.5M8S-.25 | 3.3mV/V | 0-7,500psi | 1/2-20 UNF, 8pin, 6"Stem+18-Flex + T/C-J, 0.25% | MK Melt Pressure Transducer Transmitter |
| TPT412-10M-6/18 | MKJ01P10M8S-.25 | 3.3mV/V | 0-10,000psi | 1/2-20 UNF, 8pin, 6"Stem+18-Flex + T/C-J, 0.25% | MK Melt Pressure Transducer Transmitter |

| | | | | | |
| --- | --- | --- | --- | --- | --- |
| DYNISCO# | MPI# | OUTPUT | PRESSURE | DESCRIPTION | BROCHURE |
| MDA410-1/2-2C-15 | MK101P2BSS | 3.3mV/V | 0-200bar | 1/2-20 UNF, 6pin, 6"Stem+NO-Flex | MK Melt Pressure Transducer Transmitter |
| MDA410-1/2-3.5C-15 | MK101P3.5BSS | 3.3mV/V | 0-350bar | 1/2-20 UNF, 6pin, 6"Stem+NO-Flex | MK Melt Pressure Transducer Transmitter |
| MDA410-1/2-5C-15 | MK101P5BSS | 3.3mV/V | 0-500bar | 1/2-20 UNF, 6pin, 6"Stem+NO-Flex | MK Melt Pressure Transducer Transmitter |
| MDA410-1/2-7C-15 | MK101P7BSS | 3.3mV/V | 0-700bar | 1/2-20 UNF, 6pin, 6"Stem+NO-Flex | MK Melt Pressure Transducer Transmitter |
| MDA412-1/2-2C-15/46 | MK201P2BSS | 3.3mV/V | 0-200bar | 1/2-20 UNF, 6pin, 6"Stem+18-Flex | MK Melt Pressure Transducer Transmitter |
| MDA412-1/2-3.5C-15/46 | MK201P3.5BSS | 3.3mV/V | 0-350bar | 1/2-20 UNF, 6pin, 6"Stem+18-Flex | MK Melt Pressure Transducer Transmitter |
| MDA412-1/2-5C-15/46 | MK201P5BSS | 3.3mV/V | 0-500bar | 1/2-20 UNF, 6pin, 6"Stem+18-Flex | MK Melt Pressure Transducer Transmitter |
| MDA412-1/2-7C-15/46 | MK201P7BSS | 3.3mV/V | 0-700bar | 1/2-20 UNF, 6pin, 6"Stem+18-Flex | MK Melt Pressure Transducer Transmitter |
| TDA412-1/2-2C-15/46 | MKJ01P2BSS | 3.3mV/V | 0-200bar | 1/2-20 UNF, 6pin, 6"Stem+18-Flex + T/C-J | MK Melt Pressure Transducer Transmitter |
| TDA412-1/2-3.5C-15/46 | MKJ01P3.5BSS | 3.3mV/V | 0-350bar | 1/2-20 UNF, 6pin, 6"Stem+18-Flex + T/C-J | MK Melt Pressure Transducer Transmitter |
| TDA412-1/2-5C-15/46 | MKJ01P5BSS | 3.3mV/V | 0-500bar | 1/2-20 UNF, 6pin, 6"Stem+18-Flex + T/C-J | MK Melt Pressure Transducer Transmitter |
| TDA412-1/2-7C-15/46 | MKJ01P7BSS | 3.3mV/V | 0-700bar | 1/2-20 UNF, 6pin, 6"Stem+18-Flex + T/C-J | MK Melt Pressure Transducer Transmitter |

| | | | | | |
| --- | --- | --- | --- | --- | --- |
| DYNISCO# | MPI# | OUTPUT | PRESSURE | DESCRIPTION | BROCHURE |
| PT415D-3M-6-B314 | MK101P3MSS-E | 3.3mV/V | 0-3,000psi | 1/2-20 UNF, 6pin, 6"Stem, Washdown | MK Melt Pressure Transducer Transmitter |
| PT415D-5M-6-B314 | MK101P5MSS-E | 3.3mV/V | 0-5,000psi | 1/2-20 UNF, 6pin, 6"Stem, Washdown | MK Melt Pressure Transducer Transmitter |
| PT415D-7.5M-6-B314 | MK101P7.5MSS-E | 3.3mV/V | 0-7,500psi | 1/2-20 UNF, 6pin, 6"Stem, Washdown | MK Melt Pressure Transducer Transmitter |
| PT415D-10M-6-B314 | MK101P10MSS-E | 3.3mV/V | 0-10,000psi | 1/2-20 UNF, 6pin, 6"Stem, Washdown | MK Melt Pressure Transducer Transmitter |
| PT415D-3M-6 | MK101P3MNS-E | 3.3mV/V | 0-3,000psi | 1/2-20 UNF, 1/2"NPT+36"LEADS, 6"Stem, Washdown | MK Melt Pressure Transducer Transmitter |
| PT415D-5M-6 | MK101P5MNS-E | 3.3mV/V | 0-5,000psi | 1/2-20 UNF, 1/2"NPT+36"LEADS, 6"Stem, Washdown | MK Melt Pressure Transducer Transmitter |
| PT415D-7.5M-6 | MK101P7.5MNS-E | 3.3mV/V | 0-7,500psi | 1/2-20 UNF, 1/2"NPT+36"LEADS, 6"Stem, Washdown | MK Melt Pressure Transducer Transmitter |
| PT415D-10M-6 | MK101P10MNS-E | 3.3mV/V | 0-10,000psi | 1/2-20 UNF, 1/2"NPT+36"LEADS, 6"Stem, Washdown | MK Melt Pressure Transducer Transmitter |

| | | | | | |
| --- | --- | --- | --- | --- | --- |
| DYNISCO# | MPI# | OUTPUT | PRESSURE | DESCRIPTION | BROCHURE |
| PT418-3M-6 | MF101P3MSS | 3.33mV/V | 0-3,000psi | 1/2-20 UNF, 8pin, 6"Stem+NO-Flex | MF Melt Pressure Transducer Transmitter |
| PT418-5M-6 | MF101P5MSS | 3.33mV/V | 0-5,000psi | 1/2-20 UNF, 8pin, 6"Stem+NO-Flex | MF Melt Pressure Transducer Transmitter |
| PT418-7.5M-6 | MF101P7.5MSS | 3.33mV/V | 0-7,500psi | 1/2-20 UNF, 8pin, 6"Stem+NO-Flex | MF Melt Pressure Transducer Transmitter |
| PT418-10M-6 | MF101P10MSS | 3.33mV/V | 0-10,000psi | 1/2-20 UNF, 8pin, 6"Stem+NO-Flex | MF Melt Pressure Transducer Transmitter |
| PT419-3M-6/18 | MF201P3MSS | 3.33mV/V | 0-3,000psi | 1/2-20 UNF, 8pin, 6"Stem+18-Flex | MF Melt Pressure Transducer Transmitter |
| PT419-5M-6/18 | MF201P5MSS | 3.33mV/V | 0-5,000psi | 1/2-20 UNF, 8pin, 6"Stem+18-Flex | MF Melt Pressure Transducer Transmitter |
| PT419-7.5M-6/18 | MF201P7.5MSS | 3.33mV/V | 0-7,500psi | 1/2-20 UNF, 8pin, 6"Stem+18-Flex | MF Melt Pressure Transducer Transmitter |
| PT419-10M-6/18 | MF201P10MSS | 3.33mV/V | 0-10,000psi | 1/2-20 UNF, 8pin, 6"Stem+18-Flex | MF Melt Pressure Transducer Transmitter |

| | | | | | |
| --- | --- | --- | --- | --- | --- |
| DYNISCO# | MPI# | OUTPUT | PRESSURE | DESCRIPTION | BROCHURE |
| VERT-MV3-MM1-NDC-PSI-R20-UNF-6PN-S06-F18-NTR-NCC | MK201P3MSD | 3.33mV/V | 0-3,000psi | 1/2-20 UNF, 6pin, 6"Stem+18-Flex, 0.25% | MK Melt Pressure Transducer Transmitter |
| VERT-MV3-MM1-NDC-PSI-R21-UNF-6PN-S06-F18-NTR-NCC | MK201P5MSD | 3.33mV/V | 0-5,000psi | 1/2-20 UNF, 6pin, 6"Stem+18-Flex, 0.25% | MK Melt Pressure Transducer Transmitter |
| VERT-MV3-MM1-NDC-PSI-R22-UNF-6PN-S06-F18-NTR-NCC | MK201P7.5MSD | 3.33mV/V | 0-7,500psi | 1/2-20 UNF, 6pin, 6"Stem+18-Flex, 0.25% | MK Melt Pressure Transducer Transmitter |
| VERT-MV3-MM1-NDC-PSI-R23-UNF-6PN-S06-F18-NTR-NCC | MK201P10MSD | 3.33mV/V | 0-10,000psi | 1/2-20 UNF, 6pin, 6"Stem+18-Flex, 0.25% | MK Melt Pressure Transducer Transmitter |
| | | | | | |
| --- | --- | --- | --- | --- | --- |
| DYNISCO# | MPI# | OUTPUT | PRESSURE | DESCRIPTION | BROCHURE |
| PT465XL-3M | MN101P3MSS | 3.33mV/V | 0-3,000psi | 1/2-20 UNF, 6pin, 28"Flex | MN Melt Pressure Transducer Transmitter |
| PT465XL-5M | MN101P5MSS | 3.33mV/V | 0-5,000psi | 1/2-20 UNF, 6pin, 28"Flex | MN Melt Pressure Transducer Transmitter |
| PT465XL-7.5M | MN101P7.5MSS | 3.33mV/V | 0-7,500psi | 1/2-20 UNF, 6pin, 28"Flex | MN Melt Pressure Transducer Transmitter |
| PT465XL-10M | MN101P10MSS | 3.33mV/V | 0-10,000psi | 1/2-20 UNF, 6pin, 28"Flex | MN Melt Pressure Transducer Transmitter |
| | | | | | |
| --- | --- | --- | --- | --- | --- |
| DYNISCO# | MPI# | OUTPUT | PRESSURE | DESCRIPTION | BROCHURE |
| PT467XL-3M-18-10 | MN101P3MSD | 3.33mV/V | 0-3,000psi | 1/2-20 UNF, 6pin, 10"Capillary 28"Flex | MN Melt Pressure Transducer Transmitter |
| PT467XL-5M-18-10 | MN101P5MSD | 3.33mV/V | 0-5,000psi | 1/2-20 UNF, 6pin, 10"Capillary 28"Flex | MN Melt Pressure Transducer Transmitter |
| PT467XL-7.5M-18-10 | MN101P7.5MSD | 3.33mV/V | 0-7,500psi | 1/2-20 UNF, 6pin, 10"Capillary 28"Flex | MN Melt Pressure Transducer Transmitter |
| PT467XL-10M-18-10 | MN101P10MSD | 3.33mV/V | 0-10,000psi | 1/2-20 UNF, 6pin, 10"Capillary 28"Flex | MN Melt Pressure Transducer Transmitter |