Dynisco - MPI - Melt Pressure Transmitter
All Parts Below are in Stock




Choose 1 Day Shipping at Checkout to

Get your Transducer Tomorrow
MPI offers exact 'drop in' replacement models for all Dynisco Pressure Transmitters.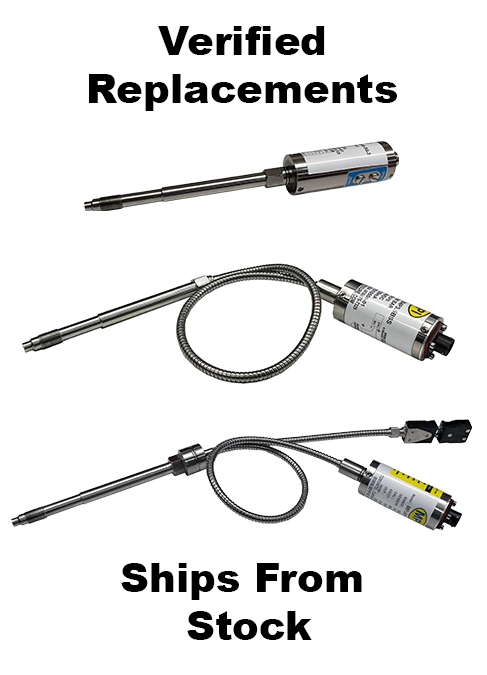 When provided with a Dynisco part number, MPI support engineers will determine the exact Cost Competitive MPI replacement part. 90% of orders will ship the same day the order is placed. Custom configurations will also ship out within 1-2 days since all modifications are done in house. If a transmitter is needed urgently, we can RUSH it.
MPI support engineers are highly knowledgeable when it comes to our products. We have encountered just about every issue and are able to provide solutions to all of them. Nearly all issues can be solved on the spot. Give us a call or send us an email and we will solve your problem. MPI support can help with wiring, programming, troubleshooting, and anything else related to the products we manufacture.
Is your Dynisco Part number not listed here? Contact Us and one of our sales/ support engineers will cross your product and get in touch with you right away.
Mercury Fill Models
Mercury-Free Models
Injection Molding
4-20mA with SIL2
Ships Today - Delivered Tomorrow. All Parts Stock
Ships Today - Delivered Tomorrow. All Parts Stock
Ships Today - Delivered Tomorrow. All Parts Stock
Ships Today - Delivered Tomorrow. All Parts Stock
Ships Today - Delivered Tomorrow. All Parts Stock
Ships Today - Delivered Tomorrow. All Parts Stock
Ships Today - Delivered Tomorrow. All Parts Stock
Ships Today - Delivered Tomorrow. All Parts Stock
Ships Today - Delivered Tomorrow. All Parts Stock
Ships Today - Delivered Tomorrow. All Parts Stock
Ships Today - Delivered Tomorrow. All Parts Stock
Ships Today - Delivered Tomorrow. All Parts Stock
Ships Today - Delivered Tomorrow. All Parts Stock
Ships Today - Delivered Tomorrow. All Parts Stock
Ships Today - Delivered Tomorrow. All Parts Stock
Ships Today - Delivered Tomorrow. All Parts Stock
Ships Today - Delivered Tomorrow. All Parts Stock
Ships Today - Delivered Tomorrow. All Parts Stock
Ships Today - Delivered Tomorrow. All Parts Stock
Ships Today - Delivered Tomorrow. All Parts Stock