News & Updates from MPI Melt Pressure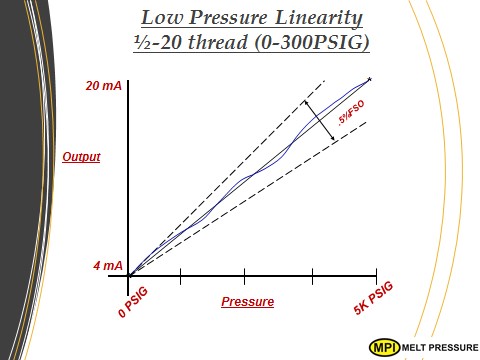 MPI low pressure melt pressure transducers and transmitters

MPI – NaK mercury free melt pressure transducers and transmitters
Low Pressure Melt Pressure Transducers & Transmitters
MPI Melt Pressure is proud to introduce the industry's first high accuracy/low pressure transducers and transmitters using standard 1/2-20 tip dimensions. Utilizing proprietary low pressure circuitry, we have achieved what no other pressure transducer manufacturer has: an accurate and repeatable signal below the longstanding barrier of 0-500 psi.
Prior to this breakthrough, process control at low pressures required costly custom pressure instrumentation to maintain consistent quality. With MPI's innovative new technology, this is no longer the case. We now offer all our existing pressure transducer and pressure transmitter models with 0-300 psi capabilities at 0.50% full scale output accuracy.
*Fig 1 - Pressure ranges down to 300 psi are now available, allowing our customers to avoid the costly, custom diaphragm sizes previously required to achieve high accuracy at low pressure.
MPI is a leader in melt pressure innovation. Our customers can expect the same level of outstanding service and delivery from our low pressure models as they've come to expect of our standard products.
Same day or next day shipping is available for low pressure ranges (300 psi-500 psi) in most common stem configurations.
Contact MPI
today for availability!

MK Series – NaK: Mercury-Free Transducers & Transmitters
MPI's
MK Series melt pressure transducers and transmitters
come equipped with the industry's leading non-toxic fill, NaK. The NaK fill used in these transmitters is capable of sustaining a very low thermal shift (only 19 psi/100°F) while providing the outstanding reliability demanded by the medical or food industries. MPI stocks the MK series in standard pressure ranges; custom ranges typically require only 24 hours to manufacture.
Contact MPI
for availability!