SIL2 Melt Pressure Transmitters - 4-20mA with Remote and Local Zero
Standard melt pressure transmitters with 4-20mA output from MPI are based on a 50-year-old design.
SIL2 Transmitters have the added feature compared to standard Transmitters as they can be zeroed in two ways; remotely via PLC by shorting the RZERO (F-Orange) and the RCAL (D-Green), or manually via the zero potentiometer.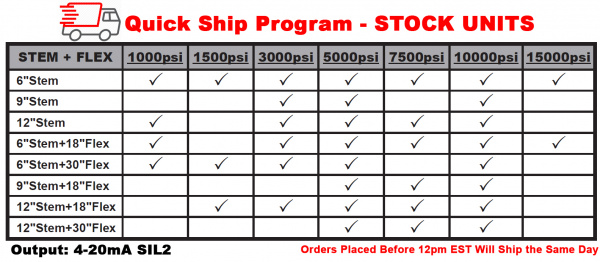 The SIL2 feature is available as an add-on for the following models: MT, MK, MF, MN
The Transmitters are SIL2(Safety Integrity Level 2) compatible
An internal Rcal transistor mounted to the strain gauge enables easy calibration of 80% of full scale.
Request a quote
on the melt pressure transmitter you need.
Contact MPI
or give us a call at
(800) 817-3486
for more information.
Full engineering support is available via email or by clicking on the Sales/Support LiveChat button below.
MT - Melt Pressure Transmitters - Standard Fill with SIL2 option (Download Brochure)
MK - Melt Pressure Transmitters - Mercury Free NaK Fill with SIL2 option (Download Brochure)
MPI/Dynisco Cross Compatibility List
MPI/Gefran Cross Compatibility List